The coming of age for the Mauritius Africa FinTech Hub

.
With membership options here at MAFH only officially kicking off in February 2019, we are thrilled to see over 21 signed members in only 4 months. We've officially come of age!
Although this is a fantastic milestone, our staff, official partners and members are continuing to work together to build a thriving African FinTech ecosystem.
Continue reading to find out more about what is happening in Fintech, upcoming events and some of our newest members.
Stay up to date with the latest African FinTech trends, news and events by subscribing to our mailing list
.
Dear fellow world changers,

The month of May has gone by in a blink of an eye, and yet we have managed to achieve new
milestones together. The number 21 holds a special place to youth globally, as their 21st birthday
signifies a rite of passage or coming of age, when a young adolescent becomes a young adult. So too
did we experience these feelings, as on the 10th of May, we signed our 21st first member!

In a
short space of 4 months, we have grown as an organisation and keep building a truly pan-African
FinTech ecosystem with you. We now have members from 3 countries, Mauritius, South Africa and Australia, and we continue growing, not only in numbers but in a community that wants to improve and build an environment of sharing and learning. Events such as the Blockchain & Fintech saw a great turnout and had 24 people attend. This is just one of the 3 events that we hosted or co-hosted with our various members and partners. Due to
your overwhelming feedback, we have decided to include upcoming events in the month ahead, to
ensure that these are on your radar.
We also have an exciting opportunity available internally and are currently looking for a Head of
Marketing. If you know anyone that is different, challenges the status quo and action driven, we
would love to hear from them. (Star Wars fans will be shortlisted!)
We will be embarking on an ecosystem mapping exercise soon and look forward to engaging all the F
inTech players and sharing the research with everyone! Let's keep pushing the vision and dream
together!
In April MAFH CEO, Michal Szymanski attended the innovate finance Global Summit held in London, the FinTech capital of the world. Below you will find a few of his takeouts from the event.
Mature Ecosystem
The UK FinTech ecosystem is globally viewed, along with Singapore, to be the most effective and efficient FinTech ecosystem in existence. Over time the ecosystem has adopted a forward thinking culture in its startups and corporations, resulting in innovative solutions and the willingness for both parties to engage over projects and make use of developed technologies. This in turn has created an atmosphere of open, on-the-ground conversations about the reality for users and what it actually looks like, meaning that solutions are generated with a user-centric approach and can actually solve real life challenges. In Africa's case these projects and conversations are often still siloed. We aim to change this through open collaboration and action.
Regulation
In terms of regulation, which is one of Africa's biggest challenges to overcome when it comes to the FinTech environment, it was

demonstrated how future-focused the FCA, along with the BOE (Bank of England)

and how this has resulted in the unparalleled management of the ecosystem and how they continuously have their ear to the ground, making sure that the ecosystem has a voice that is actually listened to. Still far from perfect, there are a few challenges that the ecosystem faces with regards to regulations, but what is important here is to understand how MAFH can use this model to approach regulators and start challenging the idea associated with disruption and begin working alongside them.
Africa the next opportunity
Over the past few years, Africa has been on the lips of the FinTech community as the next opportunity, and this was no different at the Innovate Finance Global Summit. There has been a lot of interest around Africa, with many businesses looking to invest or build relationships on the continent. For the African ecosystem to experience the BOOM this will bring with it, MAFH needs to leverage off of these expansion plans for global incumbents of FinTech to really tap into the potential in Africa. This will open up innovation for Africa, helping to improve the quality of life on the continent, while providing massive ROI for the early onboarders.
We believe that the key to tackling real-life issues, such as financial inclusion and cross border regulation, with real-life solutions is through educating businesses and individuals about FinTech. Because of this, we have been regularly supporting our members in hosting educational seminars, where they provide their expert advice and share their experience to help educate industries about converging technologies. Keep an eye on our social media to get more details about these events.

Blockchain & Regulation by Horizon Africa on 7 June 2019
At this event, hosted by Horizon Africa co-founders Suyash Sumaroo & Akash Balluck, attendees will have the chance to learn more about how blockchain and cryptocurrencies are disrupting the different sectors, but more importantly how to avoid misusing these technologies. Guests will walk away knowing how to set up the correct regulatory framework and be able to offer advice to businesses regarding these emerging technologies. Also to be discussed, is why it is imperative for regulatory bodies to understand these technologies and what decentralisation actually means.

The Crowdfunding Event on 22 July (Partnership with
Fundkiss Technologies Ltd, Crowd Invest Ltd, and  Empretec)
Crowdfunding is fast becoming a favourite for small businesses looking for alternative forms of funding. Not sure what it is? This is a chance to find out more about what crowdfunding is, how it works, the benefits and extra value it brings with it, and to gain insights into the crowdfunding platforms available to you on the African continent.

Hustlemania event by Dx Team in June (TBC)
Starting in June, the DX Team in association with Horizon Africa will be hosting a weekly event called Hustlemania. This event will see attendees putting blockchain in action through the selling and purchasing of old and new products using Barter Units. The first four events will take place in Mauritius and will see five judges rate your salesmanship. There will be more information coming soon and seats will be limited.

Should you be interested in any of the events listed above, please contact Riddhi Mossae at
riddhi@mauritiusfintech.org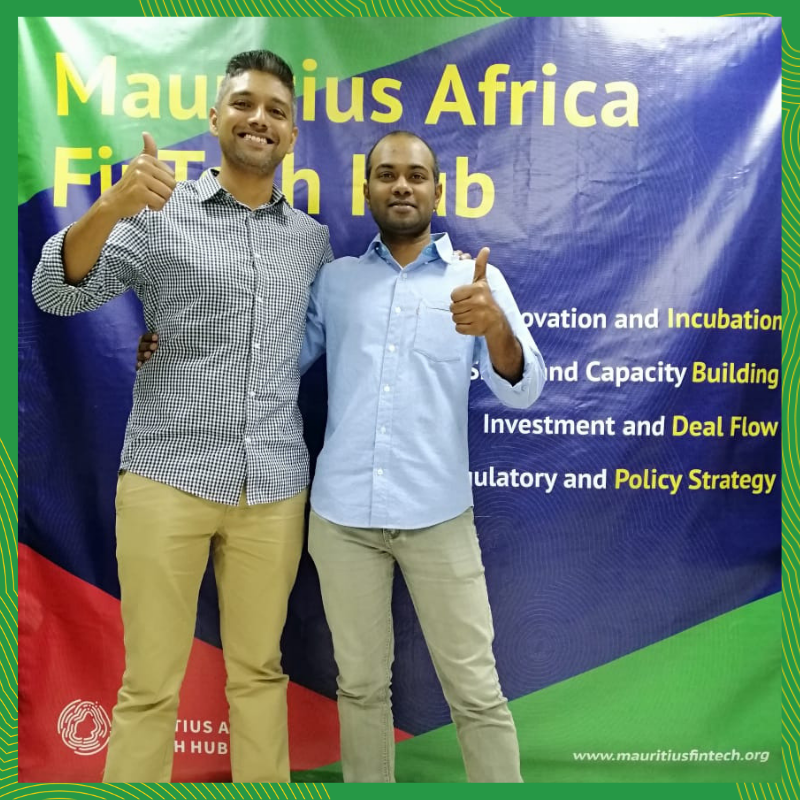 With the revolution of money taking place on a global scale, the African continent is showing huge potential for growth and desire for change in the way business has been traditionally conducted. This has resulted in a FinTech and Blockchain boom that continues to provide opportunity to the financial services industry.
Suyash Sumaroo & Akash Balluck, co-founders of Horizon Africa, are the first people to launch blockchain-based commercial products and services in Mauritius. They hosted an event on 26th April 2019, themed Blockchain & FinTech. The event aimed to shed light on how these two technologies are shaping the future of the financial industry.
Using their combined experience in blockchain and cryptocurrency and their thorough exploration into user cases in the finance industry, Suyash and Akash were able to provide 24 guests from the financial sector with more know-how and practical knowledge on how blockchain and FinTech are affecting their industry and the industries around them.
You can find out more by visiting
https://www.horizonafrica.io/
Earlier this year, Cape Town played host to the Women in Tech Africa Summit. The summit held discussions around two main focus areas, diversity and inclusion. Topics ranged from cloud optimisation and getting into data science, to practical advice on how to present technology principles to a non-technical audience.
In a predominantly-male industry, businesses need to understand how to be more inclusive of women to help bolster and improve skills development and capacity building on the African continent.
You can read more at bit.ly/WomenInTechAfrica
For the latest updates and insights of the Africa FinTech industry subscribe to our newsletter

here.
FinTech opens up a vast range of possibilities for businesses, especially for digital-first financial companies. This being said, Zac Townsend, a Fintech entrepreneur, investor and advisor provides us with 10 disruptive models that illustrate the range of possibilities in the FInTech space.
Read more
Our Head of Business Development, Manish Maulloo and resident mad man has been keeping himself and our team busy with meetings.
Looking to capacity building we have been in talks with the EOH Group to identify synergies that will allow us to partner in education and allow EOH to open up offices in Mauritius. Following on from this with our eyes still laser focused on skill building we also spoke to Gebeya, an IT academy, where we aim to open up a Gebeya training facility on the island.
Last but far from least, we have been in talks with Innovate Finance after attending their global summit in May with the buds of a partnership blooming for future events and ecosystem expansion.
Having reached the magic number of 21 members through hard work and thorough investigation into the needs of the FinTech ecosystem we believe it is time to start introducing you to some of our latest members and provide you with insight into what it is they do and can offer their partners or clients.
PwC


PwC Mauritius is recognised as a thought leader and a change initiator, where more than 300 professional staff combine the resources of a global organisation with detailed knowledge of local issues. Their firm audits many of the world's best-known companies and thousands of other organisations both large and small. Their audit approach, at the leading edge of best practice, is tailored to suit the size and nature of your organisation and draws upon our extensive industry knowledge. They have a deep understanding of regulation and legislation means we can also help with complex reporting issues involving International Financial Reporting Standards.

Visit the PwC Mauritius website.
Voyya
Voyya is a travel management company based in Grand-Baie, Mauritius, offering consumer grade, free travel management solutions. They develop branded travel products for VAT and Tax refund service providers, that take their businesses to the next level. Voyya not only provides a modern, consumer grade, branded travel platform but is the only company globally that provides compliant VAT invoices with every booking. This has major advantages for our partners and their clients.

Visit the Voyya website.
Harel Mallac Technologies
Harel Mallac Technologies is a Mauritian-grown organisation that has developed a strong network of ICT specialists with nodes across the African continent. Through this network, Harel Mallac Technologies provides services to enable ICT in medium and large organisations for them to grow and improve their operations. As an inherently cosmopolitan company that reflects the Mauritian cultural landscape, Harel Mallac Technologies is intuitively familiar with what it takes to achieve success through Ubuntu (Cooperative Development). Their Mission is to deliver ICT enabling services to African companies and governments through international best practice and best local knowledge.

Visit the Harel Mallac Technologies website.
| | |
| --- | --- |
| | Having joined us part-time in May 2019, Junaid is a qualified accountant from the ACCA and is the Head of Business Development at Harel Mallac Global Ltd. With over 15 years of experience in the financial services sector specialising in fund administration, regulatory & compliance and AML/ CFT, he is a perfect fit for our organisation. Joining MAFH in the belief that FinTech will shape the future of Mauritius and Africa in terms of improving the quality of life for the respective populations, Junaid's main goal is to help our members navigate their way through the vast number of regulations they face on a daily basis. A man of ambition and drive he also serves as a director on the board of various global companies including fund structures, investment companies and special purpose vehicles, while in his spare time acting as chairman for 2 NGOs in an effort to battle poverty and increase the awareness for the need of education. |
We are looking for a dynamic and self-driven go-getter who is well versed in both internal and external marketing & communications. They need to have a solid understanding of brand and value positioning, with a passion for helping develop brands from the ground up. The person should have a minimum of 5 years experience in the required field. If you are interested, please send us a direct message or contact us via our website at
https://mauritiusfintech.org/contact/
| | | | | | | |
| --- | --- | --- | --- | --- | --- | --- |
| |   | |   | |   | |
Sent to: _t.e.s.t_@example.com
Mauritius Africa FinTech Hub, Fanfaron Quays, 13 Marine Road, Albion Docks, Port-Louis, Mauritius